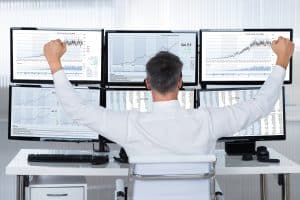 We had another great week this past week, with +653% weekly gain day trading SPX weekly options. We believe the best resource for Day Trading the SPX Weekly Options is our SPX Daily Outlook. Using this resource is what enables us to have such great returns. But there are some even more basic resources that every Day Trader needs to have. Because just having the SPX Daily Outlook isn't enough. Having the right computer setup is essential to being able to trade effectively and profitably. So today we are going to look at some tools that every trader should have. This may be basic information to some, but it is something that every trader needs to be aware of. Here is our checklist for what we believe every Trader must have.
A relatively new and powerful computer. If your computer is more than 3 years old, it is time to upgrade. You need to be able to trade without worry that your computer is going to suddenly freeze, or crash or do something strange. You need to have plenty of memory and fast processors. Specs are always changing, so buy a near top of the line computer every 3 years and you will ensure you always have a fast and reliable trading machine.
Have a backup trading machine. When you upgrade your primary computer, keep your old one as a backup. If anything goes wrong during the trading day, you can switch to your backup quickly. Always have your backup turned on and ready to switch during the trading day.
Have fast and reliable internet, and have a backup internet provider. Spend the extra dollars and have 2 different internet providers both high speed. Get both cable and DSL or whatever is available in your area. You may never use your backup provider, but consider it insurance. If you have your primary internet go down during just one big trade, you will see the benefit of having a backup service.
Put all computers, modems, etc on battery backups. Have a large enough battery backup to power your system for at least 30 minutes. This way you can ensure, even if the power goes off, you can exit your trades in a timely manner.
Use multiple monitor setups. 27" monitors are relatively inexpensive, get several of them and use them. This will allow you to spread your charts and quote screens so that you can view everything at once. If you have never used multi-monitors, I can assure you once you try it you will never trade without it. Whatever you choose to do with monitors, make sure you can view everything you want at the same time.
Get a comfortable office chair. Setup your desk in an ergonomic fashion, and ensure your chair is comfortable. As a Day Trader you will spend a lot of time in front of your computer, so it is a worthwhile investment.
Those are just some basic suggestions for every trader to consider. Remember this is a business, and approach it as such. Get the best tools you can and have backups of everything. That will ensure that you can focus all of your attention on making the best possible trades. With the right equipment and our SPX Daily Outlook you are ready to tackle the markets!